Our meetings are usually on the fourth Wednesday of every month
(except December, July and August when they may vary)
7.30pm at Hereford Courtyard. Not all meetings are publicised here but are always posted on our mailing list  beforehand.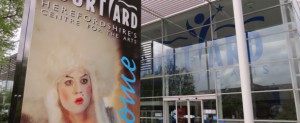 We are happy for our members or anyone interested in Linux and or Open Source (that includes any Raspberry Pi users too of course) to come along to our meetings 🙂 .
If you have been on our list but haven't attended a meeting yet, or you've been unable to attend for a while, we'd be very pleased to see you.
The meetings start at roughly 7:30pm.
The Courtyard has free fast wifi and serves lovely coffees, and there is level access to all public areas of the building. You can find directions to The Courtyard, Edgar Street, Hereford, HR4 9JR here
The Courtyard has pay and display parking adjacent and free parking a short walk away.
Not just for boys, not just for geeks.
Meeting Venues
We use different venues, but the meetings venues are always publicised on our mailing list, (where you go to join our LUG), and usually on our website. Meetings are almost always held on the 4th Wednesday of each month, but occasionally may vary so please check our website, mailing list for details.
We are currently holding meetings at the Courtyard Arts Centre, Edgar Street Hereford HR4 9JR.
It has full disabled access and there is plenty of parking for those coming by car.
We usually meet upstairs on the 1st floor cafe space.
We also hold presentational style meetings, most recently at the Grange Meeting room in Leominster. Please see mailing list list list for details.