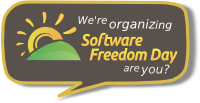 Herefordshire LUG will be holding another Software Freedom Day free event as part of the worldwide SFD celebrations.
Please come along to All Saints Church in the centre of Hereford to find out more.
We will have demonstrations and information on many Open Source and Linux topics including the Raspberry Pi found increasing in Primary and Secondary schools across the country and beyond.
Find out more about high quality free software that you can use today, and that you are already using when web browsing or searching, using Facebook, Twitter etc.
For more details please see the poster
We'll see you Saturday  … and tell your friends 😉