Hi Everyone
After a few problems last month, just a quick note to say our September LUG meeting will be on Wednesday night at 7.30pm, usual place the Courtyard in Hereford on the mezzanine floor. Hope we can get a good number at the meeting on Wednesday night.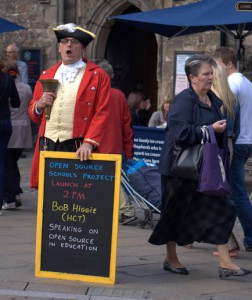 If you have been on our list but haven't attended a meeting yet, or you've been unable to attend for a while, we'd be very pleased to see you. The lift appears to be working too (the last time I checked a couple of weeks back).
The meeting will start at roughly 7:30pm as usual.
Items to discuss :-
Herefordshire Linux / Open Source Event to take place instead of Software Freedom day.
Need to decide a date, (November ??), what are we going to do, start the planning, venue (All Saints ??), etc, etc?
The Courtyard has free fast wifi and serves lovely coffees, and there is level access to all public areas of the building. You can find directions to The Courtyard, Edgar Street, Hereford, HR4 9JR here
The Courtyard has pay and display parking adjacent and free parking a short walk away.
I'll see you all there on Wednesday.