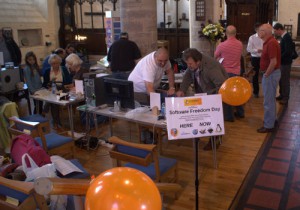 The HLUG International Linux Presentation  Day event will be taking place on Saturday April 30th 2016 at All Saints Church , High St. Hereford HR4 9AA, 10am – 4pm.
HLUG is the Herefordshire Linux (and Open Source ) User Group.
We will have free CDs and goodies to give away plus lots of info, demonstrations and advice on all things Linux and Open Source.
During the event we will show how easy it is to install Linux nowadays. For those that are able to bring a laptop or pc along we will be happy to install Linux for you. Please note, you must backup any files that you wish to keep beforehand as with any Operating System install there is a small chance of losing data. Best is to bring an older machine that is not your main device that is not critical to you just in case.
The Raspberry Pi will be making an appearance with demo's and a chance at hands on activities.
We've also got plenty of information for small businesses who would like to see what Open Source Software has to offer and our experienced and friendly HLUG volunteers will be happy to demo programs, show you how easy it is to install Linux and show you what the options are to proprietary formats.
Students off to college may also want to pop in to have a look at the great Open Source software which exists – it's high quality and free to use and share. Most of them are cross platform which means they work on Linux, Windows or Mac.
The event is as usual free and run on a drop-in basis so you can call in at any point throughout the day.
Our venue  All Saints is in the centre of Hereford and has a fantastic cafe that sells very good coffee and delicious locally sourced food. It's fully accessible. We are within walking distance of the railway and bus stations and a short stroll from Hereford Cathedral which houses the famous Mappa Mundi so why not combine a visit to our event with some shopping and sightseeing in the city.
Look forward to seeing you there.
From all the HLUG team